Machine features
1. With auto wire system, is suitable for welding metal with a gap bigger than 0.1mm.
2. Fiber laser welding machine is easy to operate, anyone can use it.
3. Steel, stainless steel, aluminum, copper, brass welding is available.
4. Holder cable length can be 9m long, it is convenient for using.
5. Red light is installed to check the position of the welder beam.
6. No sanding after welding, without heat deformation during welding.
7.
Double wobble, better welding.
Technical parameters
| | |
| --- | --- |
| Model | LM-2000W |
| Laser type | Fiber laser, 1080nm |
| Laser power | 1000W / 1500W / 2000W / 3000w |
| Fiber laser brand | Raycus / RECI / MAX / BWT |
| Cable length | 9 meter outside of machine (14 meter is optional) |
| Laser head (welding gun) | Qilin |
| Welding thickness | 0.5-8mm |
| Cooling method | Water cooling |
| Gas assist | Nitrogen |
| Visual positioning | Red dot |
| Power input | 1-phase 220V / 3-phase 380V |
| | | | | |
| --- | --- | --- | --- | --- |
| Materials | 1000w | 1500w | 2000w | 3000w |
| Stainless steel / mild steel | 2.5mm | 3.0mm | 4.0mm | 8.0mm |
| Aluminum | 1.5mm | 2.0mm | 2.5mm | 5.0mm |
| Brass | 1.0mm | 1.5mm | 2.0mm | 3.0mm |
Video
Machine details
Handheld fiber laser welding machine Product description:
1). This machine adopts 1000 / 1500 / 2000 / 3000 watt fiber laser, which has high electro-optical conversion efficiency and long laser life;
2). The laser beam quality is very good, the welding speed is fast, is more than 5 times the speed of the traditional welding machine. The weld is fine, the depth is large, the taper is small, the precision is high, fully meet the needs of users in different industries, and the welding is firm, smooth and flat;
3). The whole machine has low energy consumption, maintenance-free, high stability, and long-term use can save users a lot of processing costs;
4). Can be time splitting or energy splitting, suitable for different processing applications, support both continuous welding and spot welding.
5). The welding gun is with wobble head, and the welding gun is hand-held, flexible and convenient, and the welding distance is longer. Mainly for large workpieces, fixed positions such as inner right angle, outer right angle, flat weld welding, small heat affected area during welding, small deformation, large welding depth and firm welding. It is a relatively flexible new welding process for welding large workpieces at a long distance.
6). Double wobble, you can weld both in X and Y directions. Regular type laser welders only weld in Y direction.

Qilin control system:
Including controller board V11, BWT20 double wobble laser welding gun, operation panel. Portable handheld wobble welding head is the advantage of the machine. Portable welding head, compared to fixed welding head, it offers much convenience for welding.


Portable wobble welding gun (double wobble)
Qilin welding head is with double wobble mode which can weld in X and Y both directions. Regular welding head can only weld in Y direction.


Intelligent touch screen controlling
Laser source control: Laser power output percentage, frequency, duty circle can be set on the screen. Welding head control: laser dot mode, motor frequency, laser beam width can be set on the screen. Gas control: Gas blowing can be set on the screen.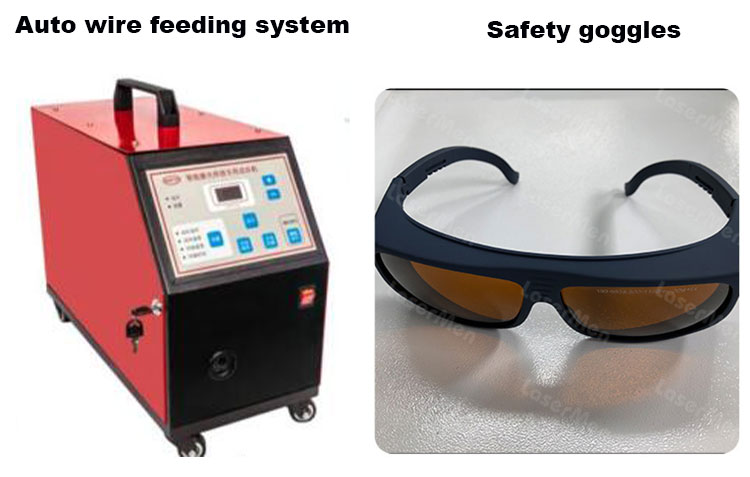 Optional (double auto wire feeding system)

Machine Application
It can weld metallic, such as stainless steel, carbon steel, aluminum, galvanized sheet, brass, etc. It is widely applied in advertising industry, high pressure / low voltage electrical cabinet production, textile machinery accessories, kitchen appliances, cars, machinery, elevators, electrical accessories, spring coil pieces, metro line parts and other industries.
It is widely used in stair elevators, shelves, ovens, stainless steel door and window guardrails, distribution boxes, stainless steel home and other industries complex irregular welding process.

Contact us